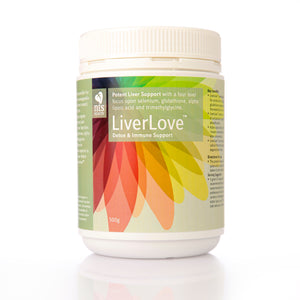 What is LiverLove™?
LiverLove™ is a liver food powder that provides the building blocks for key nutrients, rather than supplementing the actual requirement.
"The vital nutrients for liver health include selenium, glutathione, Alpha-Lipoic Acid and trimethylglycine. These nutrients can often be lacking as they are now required in greater quantity than ever before in human history."
Benefits
LiverLove™ is a potent liver food. The liver is the filter responsible for trying to manage the unmanageable in our polluted environment.
LiverLove™ provides the tools for construction of glutathione, glutathione peroxidase and SAMe – the essentials for liver health.

LiverLove™ contains a rich lode of antioxidants.

Antioxidants can help counter free-radical damage.

Alpha Lipoic Acid is often called the 'master antioxidant' as it recycles other antioxidants.

LiverLove™ is a natural liver tonic based on a combination of liver foods.
Directions
The powder should be mixed to a paste with a small amount of water before further dilution.

5 grams (1 teaspoon) is the recommended daily serving. Each 5 gram serving contains trimethyglycine (76.68 mg), Alpha-Lipoic Acid (31.57 mg) and total selenium (100 mcg).
Ingredients
Whey Protein Concentrate, Oligofructose, Xylitol, Vitamin/Mineral Blend, Natural Vanilla Flavours, Wild Rosella Powder, Tapioca, Trimethylglycine (TMG), Guar Gum, Lipoic Acid, Stevia Powder, Yeast, Selenium Chelate.
FAQ
What is glutathione?

LiverLove™ contains whey protein, which is a precursor to glutathione. It plays a vital role in the functioning of a healthy immune system, as it is involved in lymphocyte production (a type of white blood cell). This important molecule is an incredibly powerful antioxidant and helps the body to naturally detoxify. Various studies have shown a correlation between the progression of liver problems and a deficiency of glutathione.
What is SAMe?

S-adenosylmethionine is a compound formed naturally in the body. It is often used treat people with liver problems as research suggests it may aid with cholestasis and help normalise liver enzyme levels. There are many commercially available SAMe supplements on the market, however it is often preferable to supply the 'building blocks' and allow the body to form the compound. LiverLove™ contains trimethylglycine (TMG) which is a precursor to SAMe.
What is Alpha-Lipoic Acid?

ALA is found in every cell in the human body. It converts blood sugar to energy that the body requires to function normally. This important compound is also often called 'The Master Antioxidant', as it can recycle other common antioxidants like vitamins C and E and increase the formation of glutathione. Alpha-Lipoic Acid has also been the subject of research into liver health.