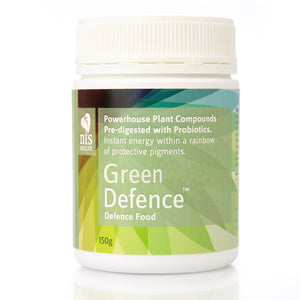 What is Green Defence™?
Green Defence™ features the energy-building power of pre-digested super greens, including spirulina and cereal grasses, combined with the exciting phytonutrients derived from pre-digested vegetables such as broccoli, carrots, cabbage, corn, beets and ginger. The multicoloured pigments from these vegetables have been shown to deliver many nutritional benefits.
"Protective pigments like lutein, lycopene, beta-carotene and anthocyanin have become catchwords for phytonutrient research in nutritional science. The growing understanding of these 'defence foods' heralds the dawn of a new era of science-based nutrition."
Benefits
The microbe-nurturing, 'slow-dry' technology involved in the production of this powdered concentrate delivers a truly special food. Colour is the new catchword in proactive nutrition and many of the most sought-after pigments are present in this product. This really is the best green powder available.
Sulforaphane – a powerful phytonutrient naturally present in brassicas.

Concentrated carotenes derived from spirulina and carrots.

A unique plant-based source of vitamin B12 and GLA.

Pre-digested beetroot is a rich source of anthocyanins.

Spirulina is the ultimate functional food.

Wheatgrass and barley grass offer raw energy.

Contains billions of beneficial gut organisms.

The highest quality green supplement. 

No artificial colouring, flavouring or preservatives.

Non-dairy.
Recommended Usage
Add 3 – 5 g (1/2 to 1 tsp) into fruit juice or smoothies, or sprinkle onto salads.

This powdered concentrate is typically consumed at a rate of 1/2 to 1 teaspoon per serving, providing over one month's supply in a single container.
Ingredients
Fermented with Natural Organic Lactobacillus Bacteria and Symbiotic Yeasts.
Organic Barley Grass, Organic Alfalfa Grass, Organic Wheat Grass, Organic Oat Grass, Organic Spirulina, Dunaliella Salina, Yam, Broccoli, Beetroot, Carrot, Cabbage, Silverbeet, Ginger, Kelp, Chlorella, Molasses. Fermented with Natural Organic Lactobacillus Bacteria and Symbiotic Yeasts.
FAQ
What makes Green Defence™ different from 'green powder' brands on the market?

We find the highest quality ingredients available and then use a unique, patented fermentation process to 'slow-dry' the product over 6 weeks. This protects the delicate phytonutrients and amino acids, whilst increasing levels of beneficial microorganisms. Green Defence™ is pre-digested, which means the natural ingredients are very bio-available. You can really feel the difference.