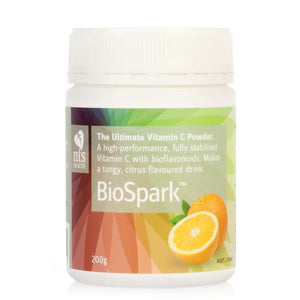 What is BioSpark™?
A high performance, fully stabilised Vitamin C with bioflavanoids and essential minerals. Mix with water or fruit juice to make a tangy citrus drink.
"NTS Health has developed one of the most high quality, unique product selections in the holistic health industry. Our philosophy differs from the symptom-treating 'sickness' industry in that our focus is upon the proactive maintenance of optimal wellness."
Benefits
A multi-function wonder. Vitamin C is not produced in the human body but it is the workhorse of the detoxification system.
Vitamin C is a powerful antioxidant that can improve wellbeing.
Buffered with essential minerals, including zinc and magnesium, making it gentle on the stomach.
Contains bioflavonoids to enhance the action of vitamin C.
May reduce the severity and duration of colds.
For the symptomatic relief of upper respiratory tract infections.
Vitamin C is necessary for collagen formation, the health of connective tissues, and as a tissue antioxidant.
Vitamin C and flavonoids such as Hespiridin have effective anti-inflammatory and antioxidant properties.
Vitamin C is a free radical scavenger.
Can be used for the prevention or treatment of nutritional deficiency.
Recommended usage
Adults: 2 grams (half of a level metric teaspoon) daily.
Children (2-12 years): half adult dose.

Store below 30°C. Keep container tightly capped to protect from moisture.
Ingredients
Each 2 grams contains:
Ascorbic acid 800 mg, Calcium ascorbate dihydrate 200 mg, Hesperidin 190 mg, Calcium phosphate 100 mg, Magnesium phosphate tribasic 190 mg, Zinc sulfate monohydrate 2.9 mg. Free of yeast, salt, wheat products (gluten), artificial sweeteners and flavouring, sucrose and lactose.
FAQ
How is BioSpark™ better than the regular tablets I can buy in a supermarket?
BioSpark™ is very different from most vitamin C supplements on the market. It is fully buffered with a mineral complex to prevent damage to delicate gut organisms and also contains bioflavonoids to help absorption. This is a vitamin C designed for maximum performance.