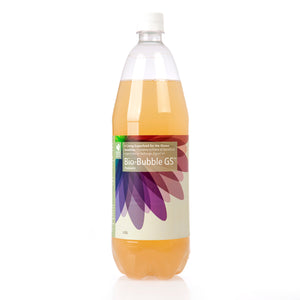 What is Bio-Bubble GS™?
Bio-Bubble GS™ is a refreshing new lime and mint flavoured version of our probiotic powerhouse. Would you like to dramatically boost your digestion and gain greater access to the nutrients in your food? Health begins in the digestive tract where 100 billion organisms nourish, protect, support and energise their host.
"Digestion is the essence of health and wellbeing. Beneficial gut organisms are the key to good digestion but they can be affected by excessive lifestyles. Bio-Bubble GS helps to address this issue while offering a proactive bio-balancing solution for the Gluten Sensitive."
Benefits
Bio-Bubble GS™ is a refreshing new lime and mint flavoured version of our popular probiotic product, Bio-Bubble™. Available in 1.25L bottle size.
Contains food-derived minerals, vitamins, fatty acids and antioxidants, all in biologically digested form. 

Also includes free amino acids, enzymes and billions of beneficial gut organisms.

Bio-Bubble GS™ is an alkalising essential to improve your critical acid/alkaline balance.

These living organisms provide a rapid response, as the activation time required with 'dormant' probiotics is not applicable.

This enzyme-rich, lacto-fermented food serves to replenish your enzyme 'bank account'.
Our market research involving Bio-Bubble™ suggests that there can be tremendous benefits associated with rebuilding the 'microbe bridge'.
Directions
50 to 150 mL per serve (per day).
If stomach discomfort occurs, try 20 mL and slowly build up.
Ingredients
Fermented with Natural Organic Lactobacillus Bacteria and Symbiotic Yeasts. 
Agave, Organic Honey, Fresh Mint, Organic Fresh Ginger, Fresh Lime Juice, Mung Beans, Brown Rice, Lentils, Chick Peas, Linseed, Alfalfa Seed, Millet, Quinoa, Ionic Minerals, Filtered Water Added.
FAQ
What is the difference between this and 'normal' Bio-Bubble™?

Bio-Bubble GS™ has a different flavour (lime and mint) and has been specifically designed for gluten sensitive individuals. It can be used by anyone though! Many customers buy it as a refreshing alternative to the original Bio-Bubble™.
How long will this product last in the fridge?

3 months after opening
The bottle didn't fizz when I opened it like it usually does. Have I got a bad batch?

No, this is normal. As Bio-Bubble GS™ is naturally fermented, the level of 'fizz' changes from batch to batch.