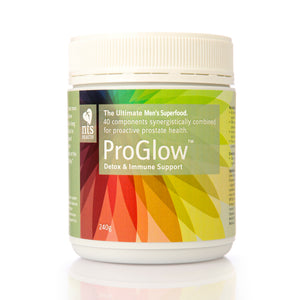 What is ProGlow™?
ProGlow™ is a men's superfood. This comprehensive formula offers multidimensional, proactive support.
"I highly recommend researching the ingredients in this product if you are a man".


Benefits
A blend of superfoods designed for men.

40 boosters in a potent superfood breakthrough.

We cannot make claims about this product, please research the ingredients yourself.
Please note: This product contains bee pollen and CANNOT be shipped to New Zealand.
Directions
Store in a cool, dry place. Refrigerate after opening.
Take 1 rounded teaspoon (approx 5 grams) twice daily with juice.
Ingredients
Warning: This product contains Bee Pollen which may cause allergic reactions.
Green Barley, Rice Bran, L-Glutamine, Ultrasweet (natural sweetening blend - oligofructose, xylitol, glycine, tapioca maltodextrin, chrysanthemum powder, silica colloidal), L-Alanine, Lecithin, WPC80, Bee Pollen, Tomato, Siberian Ginseng, Glucosamine Sulphate, Inositol, Tumeric, Pea Protein, Beta Sitosterol, Glycine, Activated Horsetail, DMG (Di Methyl Glycine), MSM (Methyl Sulfonyl Methane), Spirulina, Green Tea, L-Taurine, Saw Palmetto 4:1, Nettle, Carob, Cinnamon, Magnesium Aspartate, Tienchi Ginseng, Bovine Tracheal Cartilage, Licorice Root, Calcium Carbonate, Sarsparilla, Beta Glucan, VIP (Phytofoods), Magnesium Citrate, Quercetin, Natural Lemon Flavour, Zinc Citrate, Selenium Chelate, Colloidal Silica, Selenium Yeast, Potassium Iodine.
FAQ
Will ProGlow™ increase my libido?

We cannot make any claims about this product.
Can women take ProGlow™?

ProGlow™ is a food specifically designed for men. We have many other products that would be much more beneficial.