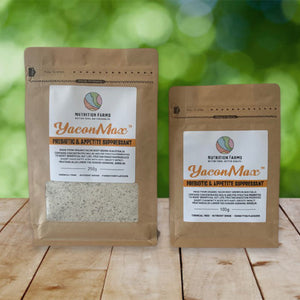 What is YaconMax?
YaconMax™ is a prebiotic and appetite suppressant made from organic, wholeroot yacon powder grown in Australia. It is an extremely rich source of phenolic antioxidants, including resveratrol.
The anti-diabetic effect of yacon root is well documented as a four-pronged weight loss tool. Yacon speeds metabolism, increases digestive efficiency, supresses appetite and stabilises blood sugar. Yacon contains concentrated inulin and FOS (fructan prebiotic) to boost beneficial gut life. Fructan digestion produces short chain fatty acids with anti-obesity impact, and fructans also lower the hunger hormone, ghrelin.
The yacon is grown at our very own Nutrition Farms estates on the Sunshine Coast's pristine hinterland, using Nutrition Farming® regenerative farming principles to ensure optimum nutrition throughout planting, growth and harvest. The end result is chemical-free and nutrient-dense produce with vivid flavours.
Directions for Use

1. Prebiotic and Antioxidant Support
Adults: 1 heaped teaspoon per day
Children: 1 level teaspoon per day
Combined in a glass of fresh juice or sprinkled on cereal
2. Appetite Suppression & Blood Sugar Management
Two heaped teaspoons, 15 minutes before meals
Ingredients
No Artificial Colouring, Flavouring or Preservatives. Non-Dairy.
~100% Organic Yacon