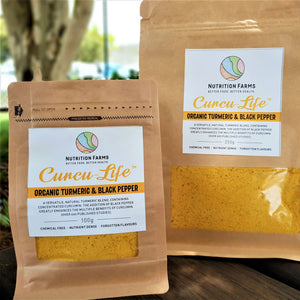 What is Curcu-Life?
Curcu-Life™ contains organic, nutritionally grown, freeze-dried turmeric mixed with organic black pepper, to greatly enhance the multiple benefits of curcumin.
Curcumin is a phytochemical found in turmeric, and has generated huge excitement in the integrated medical community. There have been more than 600 published papers describing the multiple benefits of this natural substance in relation to many of our major degenerative diseases.
The turmeric is grown at our very own Nutrition Farms estates on the Sunshine Coast's pristine hinterland, using Nutrition Farming® regenerative farming principles to ensure optimum nutrition throughout planting, growth and harvest. The end result is chemical-free and nutrient-dense produce with vivid flavours.
Serving Suggestions

Golden Latte:
1 heaped teaspoon in warm milk (or dairy-free alternative) with or without coffee. Add cinnamon, ginger and honey to taste.
Golden Paste:
In a pan, combine 1/2 cup of Curcu-Life™ with 1 cup of water and 1/3 cup of coconut oil. Stir over gentle heat until a thick paste is formed (generally around 5-10 minutes; add additional water if required, do not boil). Whisk well and allow to cool.
The Golden Paste will keep for 2 weeks, refrigerated. Can be frozen if required. Take 1 teaspoon daily. 
Ingredients
No Artificial Colouring, Flavouring or Preservatives. Non-Dairy.
~91% Organic Turmeric Root 
~9% Organic Black Pepper